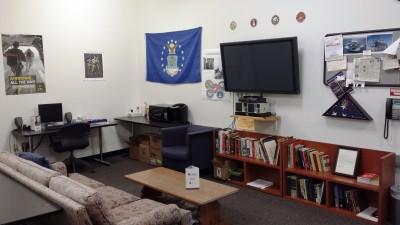 The faculty and staff at UConn Stamford welcome veterans and their families to pursue educational goals on this campus.  Veterans – as faculty, staff, and students – form an important part to the Stamford community, and the campus is dedicated to supporting service men and women in transitioning back to civilian life. As part of our desire to assist student Veterans, we work closely with state and federal agencies to get your needs met in a timely manner.  We also provide an OASIS Center for Veterans to enjoy and relax the company of fellow service men and women.
The VA certifying official at this campus is Genoveva Arce.  If you have any questions, please feel free to contact Gen Arce at stamfordbursar@uconn.edu for all of your VA Educational needs.
FORMS:
The following forms are used at the Stamford campus once you become a matriculated, degree-seeking student.
Students receiving VA educational benefits must submit this form prior to the start of each semester.  The university will not automatically certify your benefits without your permission.  Form D submitted past the UConn fee bill deadline may incur late fee(s).
Student Veterans who are eligible for the CT Veteran Tuition waiver should submit their completed application (with required documentation) to Gen Arce, prior to the start for semester, to allow for processing.  Once approved, the application will be filed and reused by our office for subsequent terms until the completion of the student's academic program.
Tutorial Assistance: The monthly rate of tutorial assistance may not exceed the cost of tutoring or $100 per month. The maximum amount payable is $1,200. There is no entitlement charge under the Post-9/11 GI Bill. A student must meet the following criteria to be eligible for tutorial assistance:
Rate of pursuit must be at least 50 percent.
Must  have a deficiency in a course that is part of your approved program.
Must  be enrolled in the course during the quarter, semester, or term in which  the tutoring is received for the course. Tutoring may not occur between quarters or semesters.
The student, tutor, and certifying official must complete VA Form 22-1990t, Application and Enrollment Certification for Individualized Tutorial Assistance. The application may be submitted at the end of each month or combination of months. The application must be signed and dated on or after the date of the last tutoring session certified. The School Certifying Official (SCO) can submit the application on your behalf.
We look forward to working with you at UConn Stamford and Thank you for your service.